Customer Testimonials for South 63 Motors
Bryan Carr -
2005 Dodge Ram 1500
I had a phenomenal experience with Ben and South 63 Motors! I live 4 1/2 hours away and found a Truck online. I called and asked them about it and they were honest and upfront about everything. When arrived to the lot and inspected vehicle and test drove. Everything was perfect! Thanks Ben for great and professional service.
Michael malone -
2013 Ford F250
Drove 3 hours to dealership after communicating with Ben regarding the purchase of a 2013 Ford F-250 Diesel truck. I asked for a ton of information and photos regarding the vehicle and Ben was very accommodating. After arriving I was warmly greeted by the entire staff. Absolutely no pressure during the entire buying experience. Very laid back and easy going. Was given the keys to the truck and I took it out for 2 hours putting it through it's paces. There were a couple of small items that were fixed immediately. I financed thru my bank, which went off without a hitch. Drove the truck home that day and left my BMW as a trade-in. I feel I got more than my money's worth and wish every car buying experience was this good. Thanks, Ben. "GO CHIEFS" !!!
Tod Marcum -
2002 GMC Sierra 1500
Great people to deal with. Honest and straight forward. Eager to help. Thanks Ben for all your help today
Mo Eqabi -
2012 BMW 550xdrive
Fantastic people and fantastic deals! This is a great, fair, and honest dealership. I enjoyed the purchasing process and love the car! Will come here again when I am ready to buy another one. Thanks!!
Luke hackworth -
2012 Volkswagen jetta tdi
Today, I have bought my fourth vehicle from this company, and will likely buy more in the future. The owners are upfront with the quality of their vehicles, and will discuss any issues that they have. They offer a wide variety of vehicles at different price points. None of the vehicles that we have bought here have had major mechanical issues. Like any used car lot, you have to be careful and pick the best of the lot, but this company almost always has a few good cars to choose from, which is impressive when considering the price that many of these vehicles are being sold at. Five stars.
Jose -
1996 Chevy silverado
1996 Chevy short bed-5speed
I purchased my 1996 Chevy c1500 from south 63 motors. To begin I was out of state and it was my first time purchasing from another dealer not in my area. I really liked the truck and I wanted to make this purchase. Ben was kind enough to show me videos, send me pictures, and answer all the questions I had to make sure I was buying a good truck. After back and forth of questions,videos, and more pictures I decided to make the purchase. Once I did he went ahead and sent me all the paperwork and title. Ben helped me get sorted out since I wanted to get it shipped to California. After everything I decided to just take a plane to Missouri and drive it back. I was hesitant at first since it's 1700+ miles. He arranged someone to pick me up from the airport and take me to the location of where the truck was. He described the truck just as how it was in person. I was on my way back to California from Missouri in my truck. I did not run into any problems at all on my way back. Overall the dealer was truthful, helpful, and understanding. Anyone who is in the area or out of state don't hesitate to contact this dealer. They will respond quick and answer all your questions. I can definitely say I will be a returning customer in the future. 10/10 service and good selection of vehicles. Thanks again south 63 motors.
Andrew -
2010 Ford F150 Platinum
Best car buying experience ever!
I have never been more satisfied with the service that I was provided! I couldn't be happier! They worked hard to give me top dollar on my trade-in and I couldn't have asked for a better experience. No regrets whatsoever! South 63 has earned a lifetime customer with me!
Andrew Eckman
Jennifer -
2003 Toyota Camry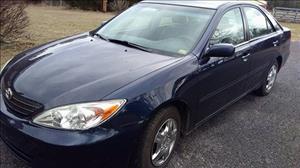 Absolutely love my new 2004 Toyota Camry ! My friend and I also greatly enjoyed the friendly casual atmosphere and chatting with 63 Motors family members who made us feel very comfortable and at home. Dealings were fair and honest and I received a very good deal ! I will go back for my next vehicle ! 5 stars.....